According to the latest issue of International Figure Skating magazine, IFS introduced our Daisuke Takahashi Fan Forum at "On the Web" column and you can read the article about DTFF by Audrey Snowden.
Here is summary and the part of column about forum as below:
高橋選手が表紙のInternational Figure Skating雑誌の"On the Web"というコラムでオードリー・スノーデンさんによるDTFFの紹介が掲載されていました。
下記はコラムの紹介記事の抜粋です。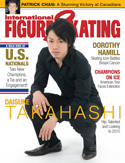 GOLDEN HOPES by Audrey Snowden
"Daisuke Takahashi is someone to watch closely. And doing just that is easy, as long as you visit the Daisuke Takahashi Fan Forum (daisuke-takahashi.megabb.com). .......Clean, neat, timely, interactive and friendly--- this site is a pleasure to visit."
"As fun and useful as the portal is, though, the heart of a fan forum is the bulletin board section. And Takahashi's fan have a lot of heart. This supportive and warm community encourages participation and even makes it easier on visitors who don't read Japanese by gamely duplicating most of the content in English as well.
This lively, active community offers a great way to meet like-minded fans."
「高橋大輔を身近に感じるのならば、高橋大輔ファンフォーラムにアクセスするのが簡単である。このフォーラムは綺麗で整頓されており、タイムリーでフレンドリーな対話が楽しめるサイトだ。
ポータルサイトも楽しく重宝するが、このファンフォーラムの肝心な部分は書き込みボードである。高橋のファンはとても暖かい。この協力的で暖かいコミュニティは日本語の読めないサイト訪問者に対しても内容が英語でも書かれている為、参加は容易となっている。この活発なコミュニティは同じ高橋ファンに会うのに最適な場所である。」
Thank you so much for the information, Shatterpoint!!

Wow, it's great honor that famous figure skating magazine IFS introduced our forum and I'm really glad to read it!!


"Takahashi's fan have a lot of heart." Yes!! they have.
I'd like to thank you all, DTFF members, IFS magazine, Audrey and of course, Daisuke!!

If you still don't have this issue of IFS, it is a lot of worth to buy it!!

_________________
GO DAISUKE!!